Noise-optimization

Powerful and quiet

Where there are people, noise emissions should always be kept to a minimum. This applies in commercial and industrial zones, and even more so in the vicinity of offices, hospitals and residential areas. The CyberCool 2 is equipped with components that lower noise emissions to a most impressive minimum.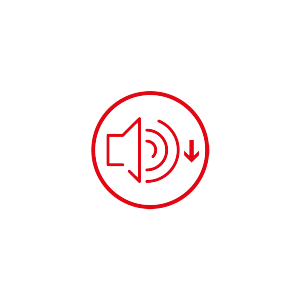 Noise-optimized for all applications
There are many projects where the noise emissions of the chillers have to be factored in. For installation near an office building or in a hospital, in particular, low noise values are essential. When designing the CyberCool 2 chiller, STULZ focused on optimizing noise without neglecting energy efficiency.
The CyberCool 2 is equipped with high-quality components that greatly minimize the noise level:
EC fans with a large surface area (Ø 910 mm) enable operation at reduced speed
The airflow properties ensure reduced air turbulence, resulting in low pressure drops and noise emissions
Sound-insulated compressor chamber
The fan diffuser attachment (optional) optimizes the airflow and therefore cuts electricity consumption by up to 20 % and noise by up to 5 dB(A)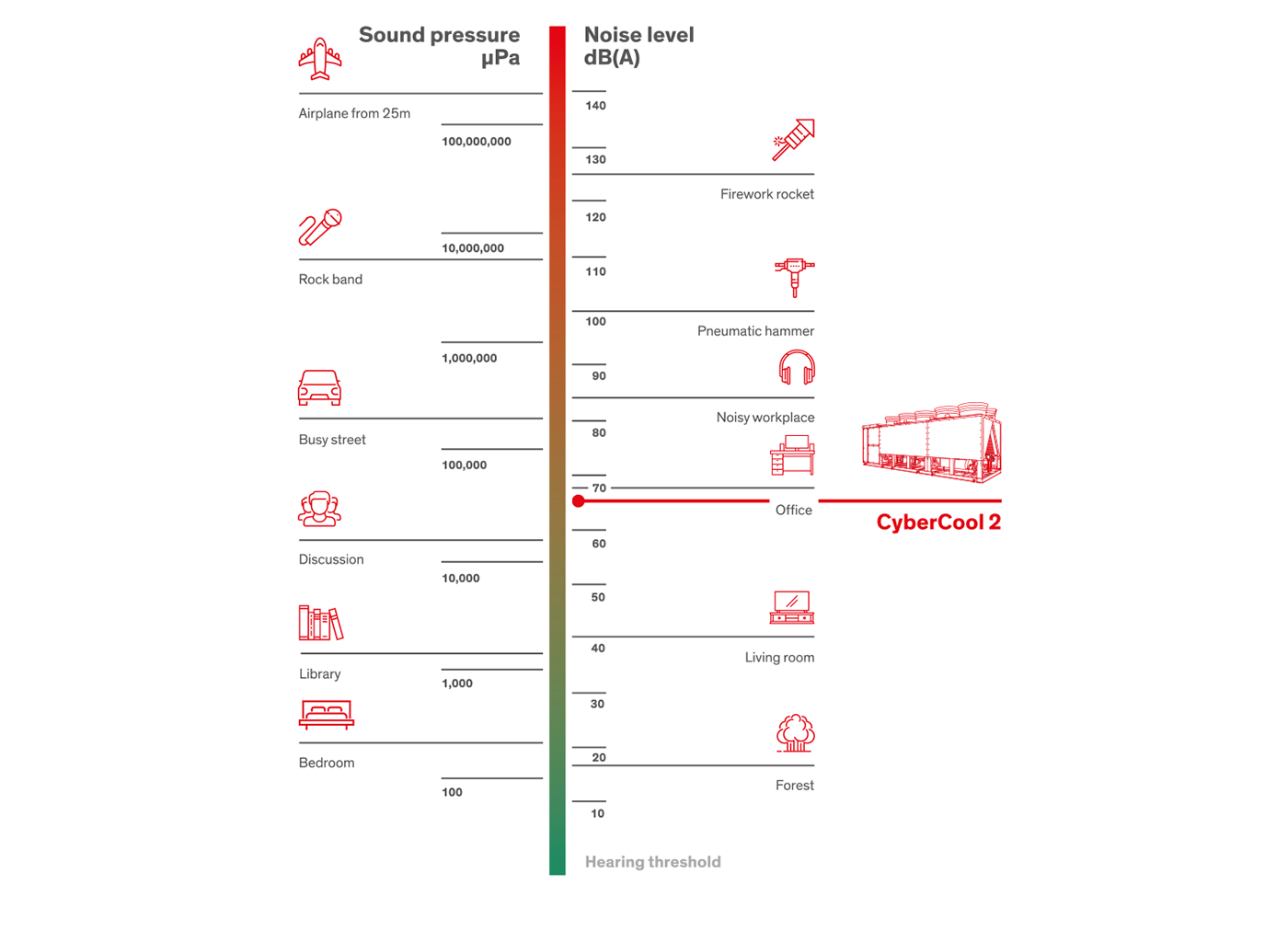 The compressors, fans and pumps are the only noise sources with the CC2 units. Depending on operating conditions, the noise level of the chiller can be reduced by up to 10 dB.
To do this, the maximum fan speed is restricted during operation. Furthermore, cooling capacity that is comparable with the standard version can be attained with the low-noise version due to the matching of condensers and fans.
| | | |
| --- | --- | --- |
| Standard version | Low-noise version | |
Efficient. And reliable. And quiet!
With the CyberCool 2, the optimum operating point can be achieved for every project. Depending on your priorities, efficiency, noise emissions or both can be optimized to suit your individual requirements. The examples below demonstrate the versatility of the CyberCool 2.
Priority: Energy efficiency*
The fans run at high speed.


Sound pressure (1m)
EER
Cooling capacity
Airflow
Fan power consumption
74 dB(A)
3.81
760 kW
308,000 m3/h
1.63 kW
Priority: Noise emissions*
Noise values are reduced as much as possible.


Sound pressure (1m)
EER
Cooling capacity
Airflow
Fan power consumption
66 dB(A)
2.72
625 kW
123,200 m3/h
0.10 kW
Priority: Optimum noise emissions and energy efficiency*
Lowest noise emissions with optimum efficiency


Sound pressure (1m)
EER
Cooling capacity
Airflow
Fan power consumption
70 dB(A)
3.77
735 kW
246,400 m3/h
0.83 kW
*Technical data of the CyberCool 2 ESO 7402 AHF
Data under the following conditions: Water 18/12°C, outside temperature 35°C, incl. AxiTop
Sound level (full load) at a distance of 1m in free field conditions (to ISO 3744), 30% glycol
Excellent values for efficiency, reliability and noise emissions apply to all chiller sizes, large and small.
Priorität: Schallemission*
Die Schallwerte werden maximal reduziert.


Schalldruck (1m)
EER
Kälteleistung
Luftmenge
Leistungsaufnahme Ventilator
65,5 dB(A)
3,78
193 kW
64.000 m3/h
1 kW
Priority: Optimum noise emissions and energy efficiency*
Lowest noise emissions with optimum efficiency


Sound pressure (1m)
EER
Cooling capacity
Airflow
Fan power consumption
66 dB(A)
4.1
200 kW
88,000 m3/h
1.32 kW
*Technical data of the CyberCool 2 CQO 1902 ASF
Data under the following conditions: Water 18/12°C, outside temperature 35°C, incl. AxiTop
Sound level (full load) at a distance of 1m in free field conditions (to ISO 3744), 30% glycol
Contact