Intro
Tel-Air-2

Precision air conditioning unit for indoor installation

Solutions for Tel-Air-2 units
Shelter cooling

Small Data Centers

Modular Data Centers

Direct Free Cooling

Equipment rooms

For use in telecommunications, infrastructure, facilities, broadcasting
Benefits
Benefits
Innovative technology and high-quality components for low energy consumption

Suitable for residential areas due to low noise emissions

Plug and play and therefore immediately ready for connection and use

Indoor installation keeps units protected against environmental influences and vandalism
Flexibility thanks to variable air conduction
Tel-Air-2 units are available as upflow, downflow and displacement versions. The displacement principle is especially efficient because of its air conduction method.
Cold supply air flows in close to the ground at low speed. Due to the low speed at which the air is flowing, a "pool" of cold air forms on the floor. This cold air is drawn in by fans integrated in the server rack to a varying extent depending on the heat load, and then expelled upwards as heated air. Because the cold and hot air are prevented from mixing, the displacement unit can draw the circulating air in at 30 °C, instead of 25 °C as was previously the case. This higher temperature level increases the operating hours with Free Cooling.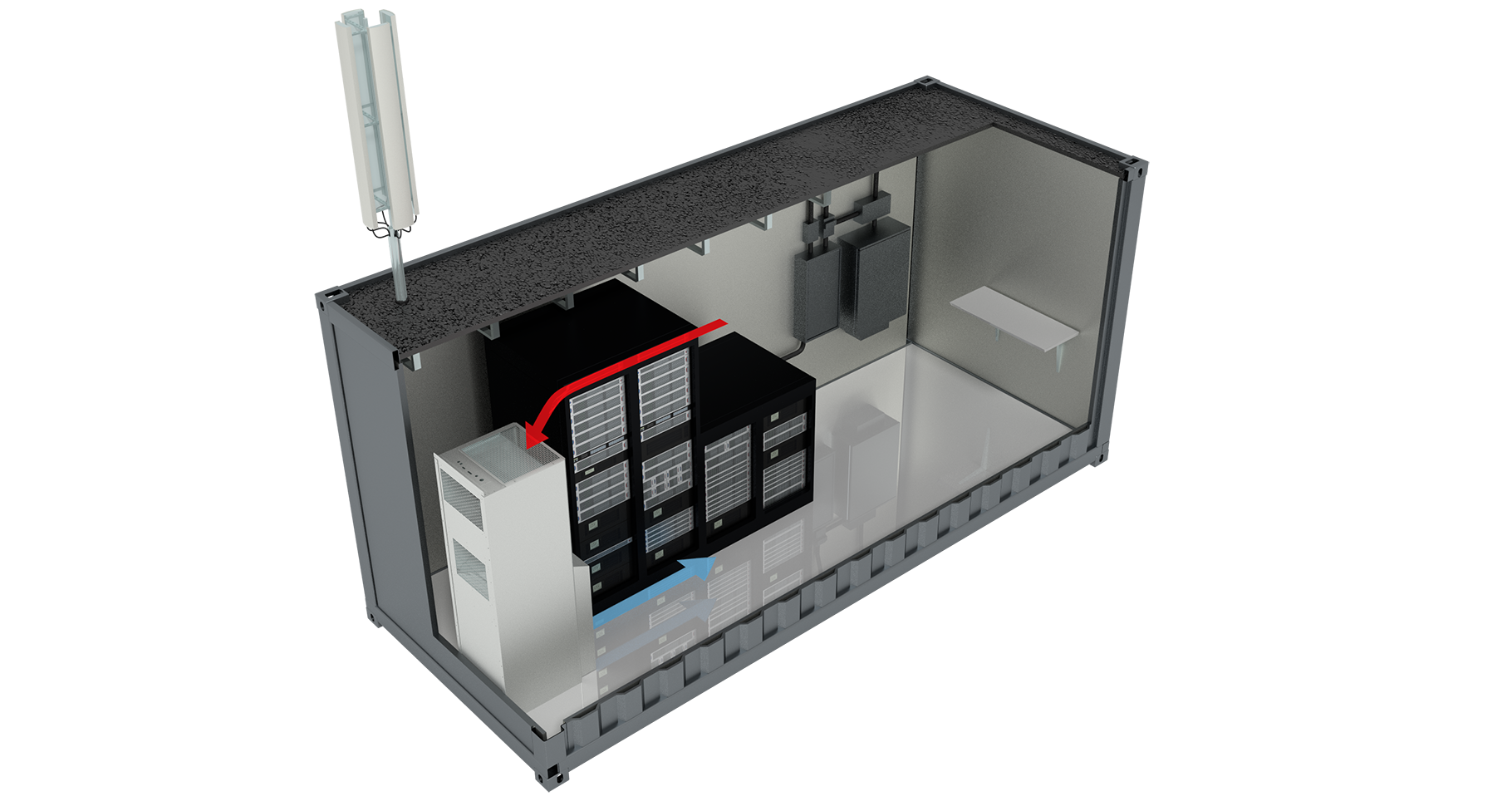 Features
Features
Factory tested, filled with refrigerant and ready for operation from the very first day

Downflow, upflow and displacement principle

Condensation pressure control

Outside air conditions: –20/+50 °C winter/summer

Automatic restart after power failure

Refrigerant R407C

Filter monitor and airflow alarm

Inside and outside temperature sensors

G4 zigzag filter

Heat exchanger with microchannel technology
Controller
Control and monitoring
The C2020 consists of a controller and an optional operator terminal. The controller controls all the functions of the Tel-Air-2 unit. The operator terminal, consisting of a keypad and LCD, displays the most important operating states and alerts.
Sequencing
The C2020 enables up to ten units to be configured in a single air conditioning system. If an individual unit drops out or the heat load rises, the standby unit is switched in for additional support
Night mode
Time-controlled limitation of the condenser and evaporator fan speed for quiet operation
Energy-saving mode
Monitoring and alarm relaying
Via BMS systems
Nine potential free contacts are available: Alarms can be assigned a high or low priority
Via GSM modem
Simple configuration and software updates
Central configuration of units from a laptop
Hardware key for uploading and downloading software without a laptop
WIB 1000
WIB 1000 is user-friendly and offers easy data exchange, monitoring and worldwide suitability.
Ongoing retrieval of data from the controller
Ethernet interface
Compatible with all common BMS systems
Communication via SNMP and HTTP IP protocols
Downloads
STULZ Services